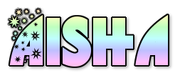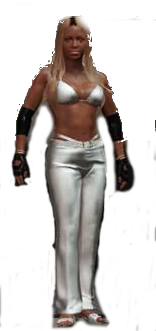 Height  :   5;11"  
Weight :  138  Lbs
Home :  Atlanta,  GA 
Finisher :  NHB  Combo  , Showdown   Suplex  
Debut  :  2008  
Music  :  Fate  - Song  by  Her  
Aisha    was    a  top  pop   star   in  the 90's     then   she   a  a rough   bount   with    Drug  two   hitting  the bottom   of the street  of    Atanta   she  met   tag  team  parnter   Black   Venas   thay  became   the tag te
am  call   Black  Rain   but   after  a  match    with   the Heavy  metal sister  Venas   arm   got  cout   in  the  ring ropes    as  spike    begain   to    rake    her arm  on the ropes    to  the point    where  it  was   a  bloody   mess    and    venas    had  to  retire   from  wrestling    .  now   she    fight   in  WxW     wating    for the    day  she  get   the   Metal  Sister    in  the ring   to  take  
Vengeance    on   them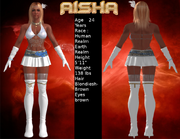 Ad blocker interference detected!
Wikia is a free-to-use site that makes money from advertising. We have a modified experience for viewers using ad blockers

Wikia is not accessible if you've made further modifications. Remove the custom ad blocker rule(s) and the page will load as expected.